Through a 10-minute car drive from the La Valse Hotel located in Yeongdo- gu, visitors can easily reach Nampo-dong which holds landmarks worth visiting in Busan such as the Gukje Market, and Yongdusan Park. The highly accessible La Valse hotel is just 20 minutes away from Gwangalli using the Busan Port Highway. Through La Valse Hotel's refined services and the marvelous night view of the Busan Port from its classy rooftop garden, La Valse Hotel deserves outstanding points for its convenient location and polished facilities. The clear transparent glass windows allow guests to blissfully enjoy the open ocean views not only from the hotel rooms, but also from the buffet and cafes, giving them enough opportunity to relax even out from their private rooms. Due to its sophisticated atmosphere, appealing features, and scrumptious food, the La Valse hotel is definitely a place worth considering for to stay in Busan.
Greeting potential guests with its towering 29 stories and unique design, La Valse Hotel surprises potential guests again in the lobby with its sparkling chandelier and marble floors presenting both a bold and relaxed atmosphere. Having arrived before the check-in schedule, I had the pleasure of exploring the area of the hotel. The convenience store, beauty salon, cafe, banquet hall, gym, and restaurant are located from the first floor to the fourth.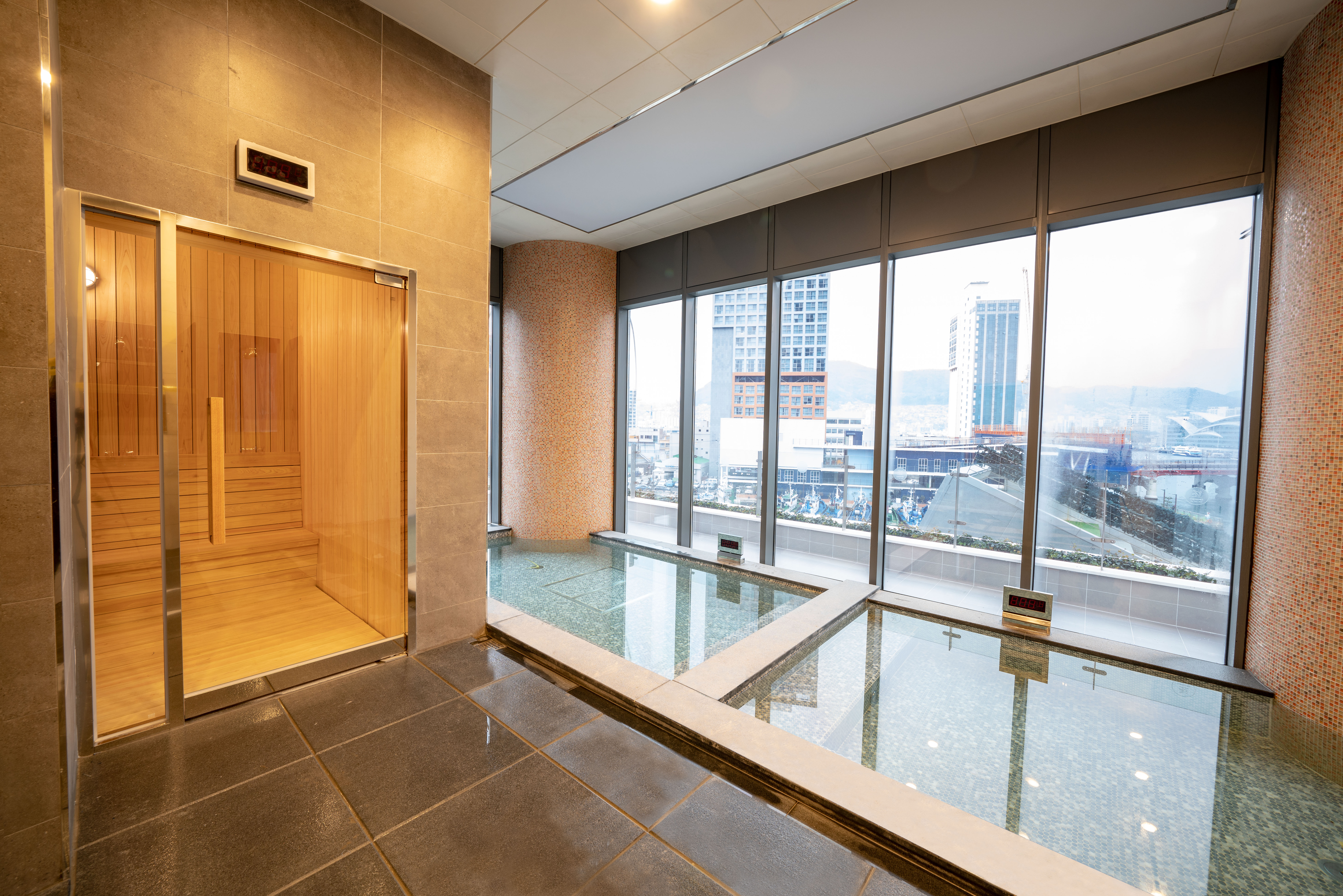 The rooftop and cafe are located at the highest floor where guests can marvel at the ocean view or enjoy a sauna. The ocean view that presents
Yeongdo Daegyo Bridge
in a panoramic image is perfectly complemented by the steaming sauna and the complimentary bath oil from the Spanish beauty brand La Chinata. The gym and coin laundry are located on the same floor. Those who have a workout routine may utilize the gym while special guests may use it free of charge. The banquet hall seemed to be an ideal hall for hosting weddings, birthday parties, and meetings.
Famous for its olive beauty products, a La Chinata store can be easily seen near the front entrance. As an individual who is interested in beauty and health, I spent a pleasant while in the shop browsing through edible olive products that were launched last June and beauty products that are applied on skin such as oils, essences, soap, shower gels. As a fan of olives, I had purchased several edible products. Not only did the balsamic and olive oil combination tempt me into spending money, but the extra virgin olive oil consumed by drinking it was incredibly difficult to resist. For the reason of lessening my baggage during my trip, I decided to have them purchased online which could be delivered. There were a variety of oils full of distinguished aromas which I thought would be helpful for my appetite. My shopping streak just keeps going on due to the things I need. Those who were once guests of the La Valse Hotel of Busan, Yeongdo- gu, must have used La Chinata's items from th

e complemented products and

visited the store as they check-out.
From the first and second floor, guests may savor on high quality premium coffee, hot bread from the oven, and fresh sandwiches from 'Cafe Ravel'. Spectacular views await on the 28th and 29th floor where Maxim de Paris and La Valse Sky 29 rooftop cafes present customers with the entire view of Busan city.
Those who view the entire Busan city by going down from the twenty-ninth-floor rooftop will be speechless, but the majestic night view coaxes guests to have a romantic dinner under the moon. Adjacent landmarks such as BIFF street, Ja Gal Chi market, Gwanbok Lotte Department Store, and Busan International port Terminal can clearly be seen along with the faint headlights of people returning back home after work. Ships will slowly curve their way through the waves, creating a peaceful ambience. The Busan Port bridge linked to Centum City was especially a sight to behold due to its impressive LES lights that illuminates the night sea and ocean. La Valse Hotel has chosen the optimal location for its guests to enjoy tremendous sights from nearby landmarks, and by doing so, La Valse Hotel has become a landmark of its own.
Proudly presenting grand ocean views on the 28th floor, Maxim de Paris cafe offers customers a wide selection of its famous French chocolate in pretty boxes in all shapes and sizes. The view from the rooftop can be seen again through transparent glass as guests relax on their seats in the cafe. There are plenty of photo zones including the classy elevator. I personally enjoyed Maxim de Paris fresh baked bread, premium coffee, and handmade dessert for lunch.
A diverse army of bread with unique flavors awaits within the cafes of La Valse Hotel such as cream cheese brioche, mont blanc, bean flour croissant, and ang butter bread. Among these delicious buttery warriors I personally chose a bread that has a crunchy exterior with soft meat, egg, and vegetables in the interior: the croquette.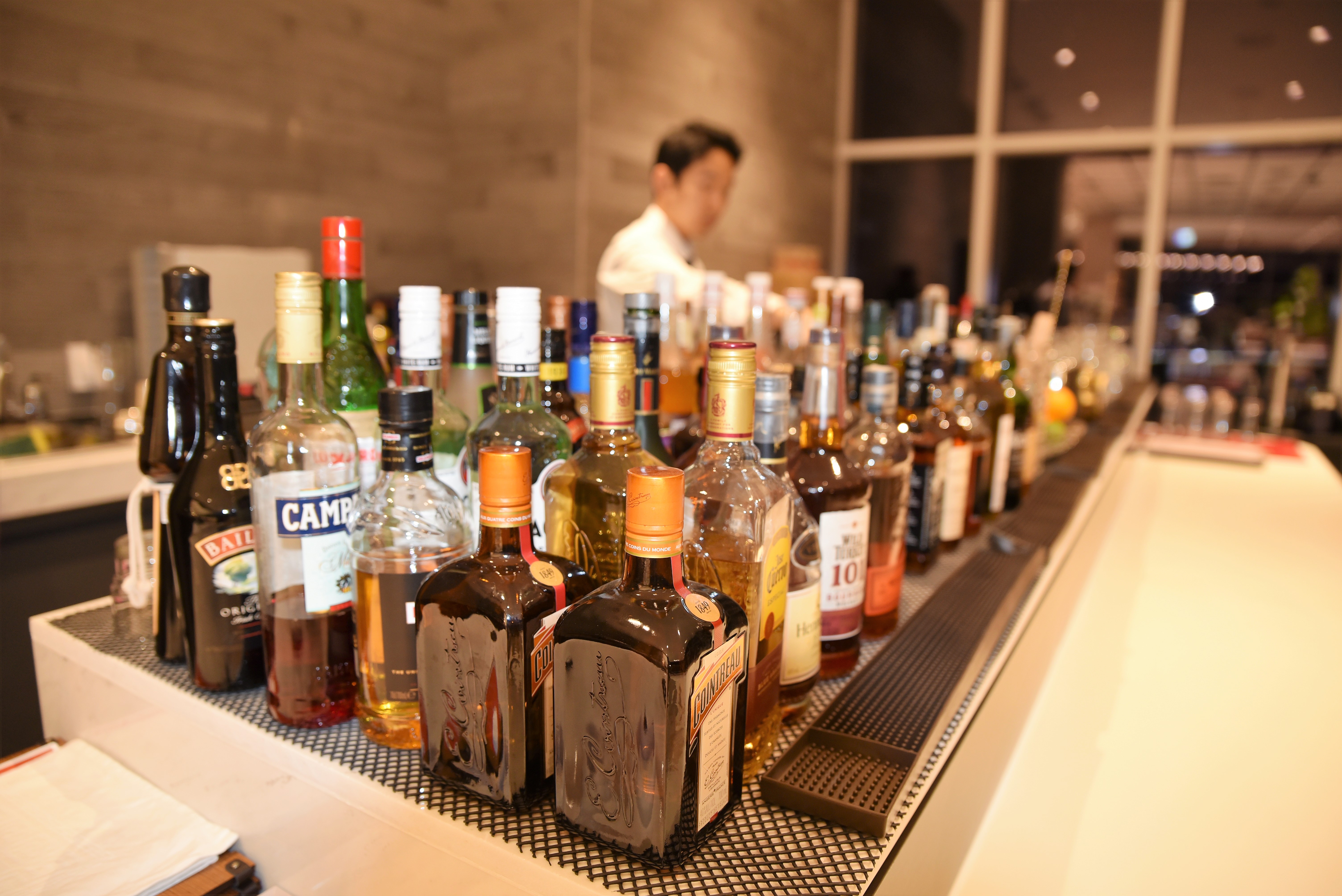 Handmade beer, wine, cocktails, and whiskeys are served in the Lounge&Bar after 6PM. With over 100 seats, a large influx of customers won't be much of an issue for both guests and seating. After eating from the cafe, it was a pleasure sitting across the observatory and hotel to relax. Those who like reading can find the observatory an ideal place to do some quiet reading surrounded by fresh air.
When checking in, guests may choose between Aqua Ocean View, Peer Ocean View, or the City View for their preferences in sightseeing from their rooms. The room I stayed at was the deluxe half Ocean double room which shows the South Korean Seas Bridge and the city view. My breath was taken away upon opening the door to the room as it proudly showed me the amazing scenery. In addition, the famous Italian designer Lodovico Bernardi's woodwork furniture in the room stole my attention and gave a refined touch to the spacious room that would tempt those who are not used to big living spaces. Needless to say, La Valse Hotel prioritized refining and polishing guests' room with the full glass window panes, sliding doors, chairs, table, sofa, headboard, and touch-screen mirror which all give out a spacious and leisure environment perfect to relax in.
It was almost painful to leave the room when I was laying down on the fluffy bed basked in warm sunlight watching the blue ocean and busy city through the glass walls. The quality of the rooms and services it provided was enough to relax within my own room. I guess this is why 'Hotel Staycation' is a thing. Due to the specific structure and design of the room, the room felt very spacious and I didn't feel an ounce of discomfort. I also appreciated the numerous power outlets which I used to charge my phone, camera, and laptop. From the multi-outlets they provided in the room, I assume foreigners frequent this hotel. Curiosity invaded me as I continued to love my room, wondering how the other rooms are designed and how they feel.
The bathroom and powder room are all hidden behind a sliding door so the overall look of the room is very simple and yet refined as the amazing ocean scenery and a couple of furniture come in sight when entering the room.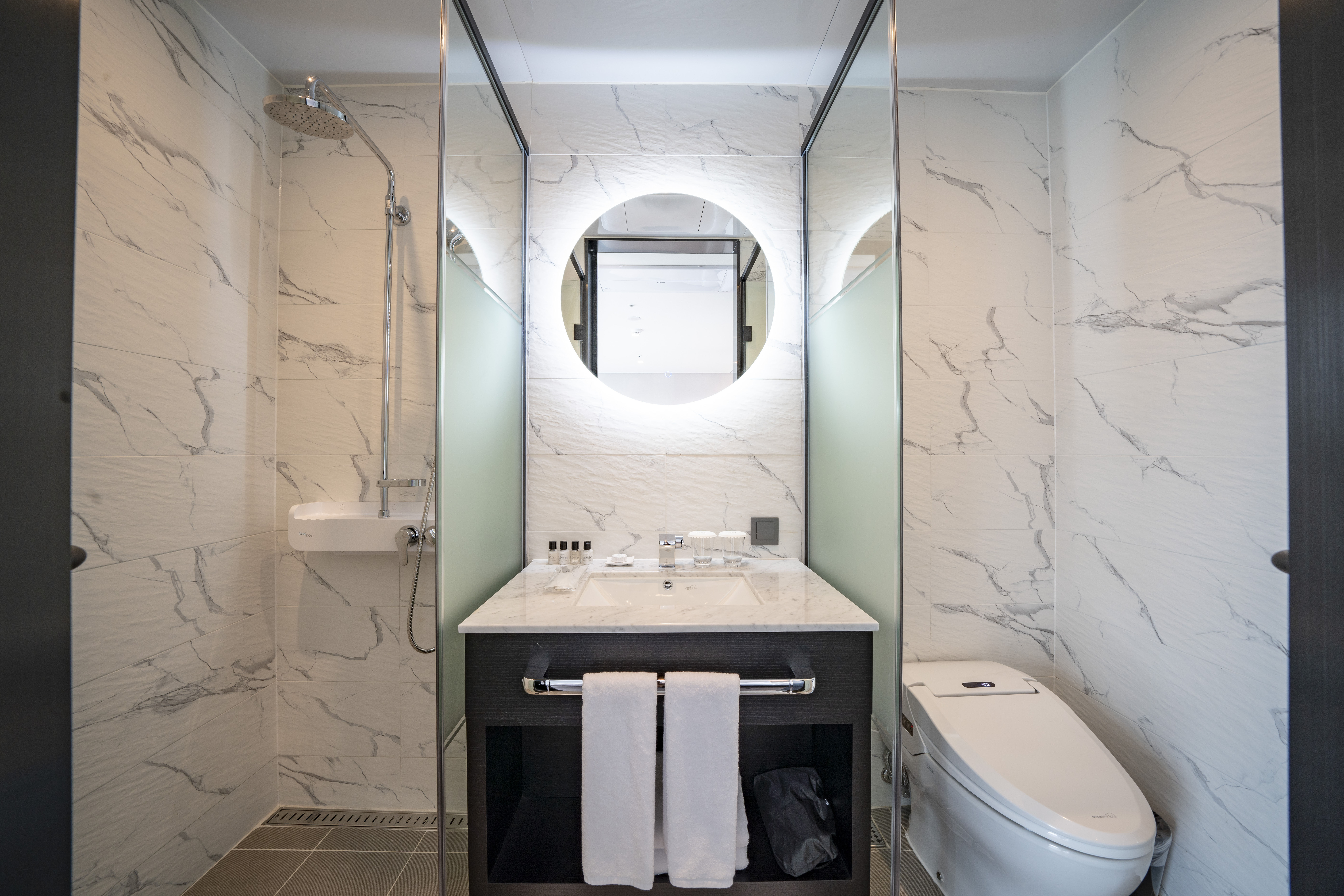 Having the bathroom sink separately placed between the tub and toilet was a comfort for me. The mirror above the sink is touch-sensitive and touching it will turn on a light which was interesting to turn on during the night.
Tools and products essential for bathing such as shampoo, hair conditioner, and shower gel are supplied from the aforementioned La Chinata brand while the toothbrush, toothpaste, comb, ear swabs, makeup cushion, and shower cap are provided from the hotel. A fluffy bathrobe can be substituted for pajamas and I left mine untouched in my suitcase. The fantastic night view and immaculate bed sheets gave me a pleasant sleep in the hotel. The heater can be controlled within the room. Although I enjoyed my stay here with my significant other, I wouldn't have minded staying here alone.
Watching the provided Full HD TV while savoring the complimentary coffee, Je Ju tangerine, burdock tea bags, and bottled water was a pleasure. With an unparalleled panoramic view, no man should desire to be anywhere else. It was considerate of the hotel to provide healthy beverages to its guests. The fantastic views of
Yeongdo Daegyo Bridge
,
Busan Daegyo Bridge
, Busan port all depend on the room angle and room type. I personally requested a room that shows the South Korean Seas Bridge which connects South Korean Seas and Yeongdo- gu. Being 1,941m long and decorated with 2,504 LED lights that shines multiple colors on the night ocean, South Korean Seas Bridge is titled as 'the gates to the new world'. Watching the colors dance around the dark pier and ocean entertained as I relaxed comfortably in my guest room.
The buffet Alianon is located on the third floor. The polished design and appealing atmosphere made me want to visit the restaurant again on a whim. Apparently, there were a lot of customers who were not guests of the hotel. The fresh ingredients that were used to create the dishes seemed healthy. Steaks were beautifully cooked and the soft texture was a delight in my mouth. The restaurant not only serves wine, but beer and soju as well which went along well with several dishes. Alianon also serves fresh raw fish and my stomach was full from delicious steaks and fish. Crab and squid sushi were plentiful as well. With a tremendously diverse menu ranging from seafood such as steamed king crabs and abalone and fried shrimp, it is understandable why non-guest customers seek this restaurant.
My dinner began with a thick and creamy mushroom soup and soft vegetable porridge. Presenting pizzas with figs as a finishing touch, and Korean raw beef dishes, Alianon is an ideal place for the entire family to dine together. There are five dishes that entices customers who enjoy Korean food. Fried Cantonese Pak choi, sweet and sour chicken, eggplant gratin,
Dongin-dong
style ribs, jellyfish salad, smoked salmon, caprese salad, green olives, dried chips, and an assortment of cheese all made me head towards the buffet table over and over to savor every diverse food there is. There is also sushi, grilled king prawns, tomato pasta, gondola pizza, margarita pizza, rice noodles. I had stuffed myself with pizza as the pizza was baked in a brazier oven.
The assortment of handmade cakes the bakery bakes goes well with the aromatic coffee for dessert. Soft and sweet jiggly jelly and green-tea ice-cream is a great addition to the menu, allowing customers to choose a dessert to their taste preferences.
The restaurant serves juice and coffee for dessert. Watching the beautiful scenery of the ocean and
Yeongdo Daegyo Bridge
while eating meal made my day one of the best. After checking out from La Valse hotel, I headed straight for the Korean Fiddle Art Town located nearby which won the 2018 regional culture award. Walking along the shoreline and Yongdusan Park, BIFF road, Ja Gal Chi market, Gukje market, and Gwangbok Lotte Department store are all in one sight.
If anyone is travelling by car, they can reach Korean National Maritime Museum,
Taejongdae Park
,
Hwinyeoul Culture Town
, which are all worth visiting. The subway is a good alternative if anyone prefers to take public transportation since it is more affordable and the landmarks are nearby the stations. Check in is at 3PM and check out is at 11AM.
Places to visit while staying in La Vals Hotel. (Recommended for spring)
1. Yeongdo- gu Welcome Center
Accessible by walking a minute on road, Yeongdo- gu Welcome Center is an information center that provides an exhibition of
Yeongdo Daegyo Bridge
, and it is recommended before viewing other landmarks. Within 10-minute walking distance are the Korean Fiddle Art Village and
Jeoryeong Coastal Walkway
hiking road. In addition to information about nearby landmarks, visitors may purchase souvenirs such as mugs and watches.
2. Korean Fiddle Art Town
It takes 10 minutes by foot and 3 minutes by car to reach the Korean fiddle art town which can easily be seen from La Vals hotel. Upon arrival, visitors will see an information center. The town is also dubbed as 'Kang Kang town' for the townsmen often banged a hammer against rusted boats. (Kang is an expression used when banging an object against a metal surface) The town also the birthplace of the first Korean shipyard and the beginning of a prosperous shipping business. One can witness the dynamic of Busan people and the legacy their ancestors left behind through labor. Old tugboats are prevalent in the town and it became a photo zone for tourists due to the 'Sea Garden' art piece artists made which attracted many visitors
Open from Tuesday to Friday 10AM~ 5PM.
3.Yongdusan Park
A historical landmark that was built for General Chungmugong who saved Joseon from the Japanese Invasion. A statue and a floral clock were built in his name, but many visitors now come to the park to see blooming flowers. A couple of museums are located nearby the park for more historical knowledge and experience. It only takes two minutes to reach the park from Gong Young parking lot.
4. Ecology Park
The 5th Gang Seo Nak Dong Kang cherry blossom festival began on the day I travelled here. It was very crowded but the spacious area allowed people to rent bicycles to enjoy the festival while riding a bike. There is a staircase that plays piano notes and people climb on and the abundance of canola trees made it perfect for photos. Those who take the public transportation will have to walk 400meters from Gang Seo Office station. The Macdo Park is nearby the route and many tourists frequent there on the way. This is the place to be during cherry blossom festivals.
5. Gwan An Li Sam Ik Beach Town, perfect for viewing cherry blossoms
As it is located near Gwan An Li beach, it's a good place to visit. The bike road is smoothly constructed which is why many people rent bicycles and ride until they reach Min Lak Waterside Park. The night view is incredible during the night and people take evening strolls while taking in the beautiful sight. With attractive cafes, diners, and bakeries around the area, the beach town is a famous place for romantic dates. A free public bicycle rental is at the end of the apartment cherry blossom road. No one can miss

Jean-Pierre Raynaud,

a modern French author's, work 'Vase' on the other side.
6.
Haeundae Dalmaji-gil Road
Hiking trails, resting centers, eco forest preservation, bird habitats are prevalent in the Dal Machi road. From this road, people can head towards the South and see
Gwangandaegyo Bridge
and
Haeundae
Waterside Park in a single sight. However, the road is long and many people turn around when they see a thick cherry tree bending over the street after a 4.3KM walk.
<Places to go from La Vals Hotel in Busan.>